We offer a range of Confined Space courses at our Telford/Midlands training centre, from Low Risk to Management. The classifications are different for each risk level, which can make it difficult to understand which course is most suitable for you, so how do you choose which one is best? Continue reading this article to find out which course best describes your regular working environment…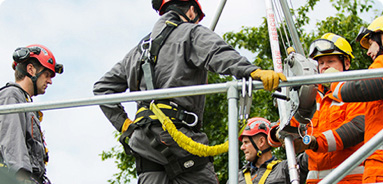 First of all, what's classified as a confined space?
Either a space which is substantially or entirely enclosed, or;
A restricted space which poses an increased health and safety risk to the worker
What are some of the risks when working in a confined space?
Serious injury arising from fire, explosion, or lack of oxygen
Loss of consciousness from increased body temperature; or asphyxiation from gas, lack of oxygen or free-flowing solid materials (sand, soil, and other sediments)
Drowning risk if working with increasing water levels
What counts as a Low Risk Confined Space?
A confined space where the entry/exit is shallow with adequate natural or mechanical ventilation. A low risk environment would, in most cases, have no obstructions and no likelihood of flooding. Examples of low risk spaces include meter pits, valve chambers, booster pumping stations and PRV chambers.
What counts as a Medium Risk Confined Space?
Enclosed spaces where no immediate risk is posed but there is potential for one to arise. These risks can include sediment disturbance (ie, sludgy water, soil or sand) and the release of asphyxiating gasses. Some examples of the spaces you could expect to be working in are; man entry sewers, subway tunnels, tanks, chambers, aqueducts and complex wet wells.
What counts as a High Risk Confined Space?
This is an environment which may be entered using self-contained breathing apparatus and involves non-standard entries involving complex operations, which poses additional risks. These environments could contain insufficient oxygen levels, high levels of toxic gasses and an increased risk of drowning, burial and explosion.
In conclusion, if you are working in any of these environments you should be looking to undertake one of our City & Guilds confined space courses to minimise and competently deal with any potential hazards you may face. Our trainers are fully qualified and our bespoke-built training area ensures you'll be training to the highest standard possible. Most of all, you are responsible for your own safety, so ensure you are fully comfortable before carrying out this type of work.
If you would like more information on our confined space courses, see our course specifications or fill out our online enquiry form.